AUTHENTIC

    OLD  MASTER

      PAINTINGS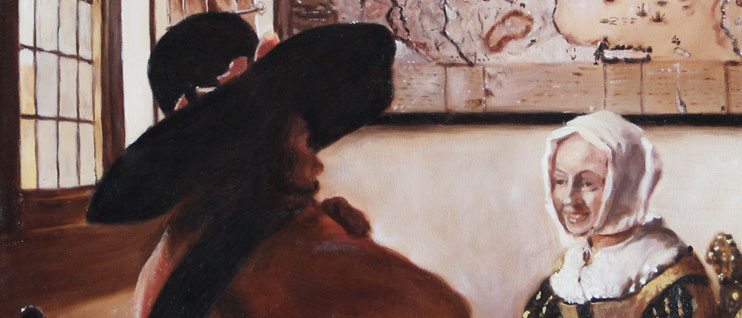 The keen desire to have Jan Steens Twelfth Night painting for my own started me down the path of forgery.

   I know forgery might be a strong word to use here, but it is accurate in its sense of precise detail, authentic technique, and original size, right down to the eighth of an inch. Coming upon the Twelfth Night painting in the Boston Museum of Fine Art, I fell instantly under it's spell . I stood there before the painting and wondered, " what would it be like to have such an incredible piece as Twelfth Night hanging in my own dining room"? Those many years ago coincided with having already begun my path of painting in the old Dutch style and so made me realize that it was possible to have this painting as my own!

   That exciting realization brought me quickly back into the studio where my brush not only produced works of my own creation, but also created fantastic forgeries with no intention to deceive. My intentions, unlike the famous Vermeer forger Hans van Meegeren, are not to produce "unknown works" of Dutch artists and sell them as such, but to offer exact copies of known paintings that look like the real thing.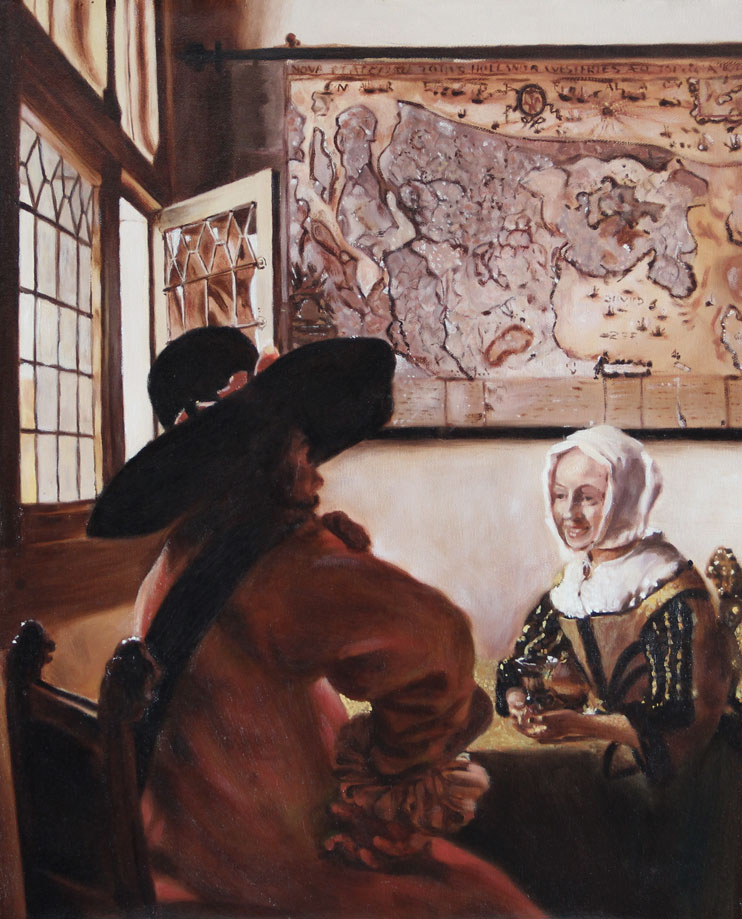 Patrons around the country (and overseas)  have hanging in their home such paintings of mine as Vermeer's The Little Street,  The Geographer, Officer and Laughing Girl,  A Woman Asleep (one of his first genre paintings) , A Girl Reading a Letter at an Open Window, and more.

  It is my pleasure to offer you the  opportunity to enjoy an exact replica of  that Vermeer or De Hooch painting that you love so much, the one you visit everytime you make a visit to the city.  For the first time you can  enjoy a hand painted reproduction of your favorite Great Masterpiece.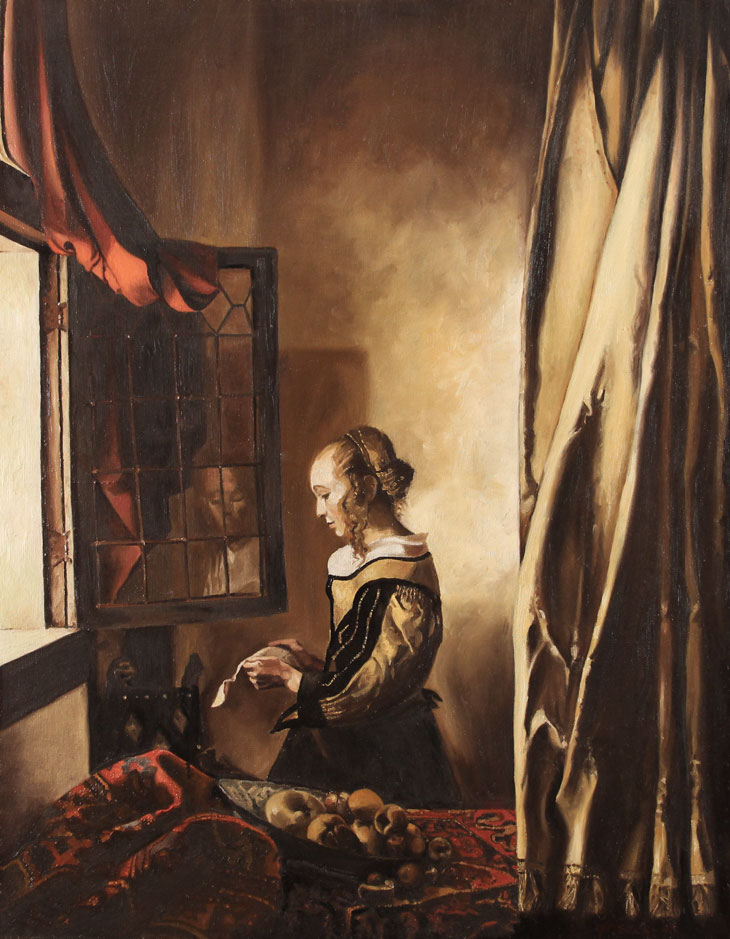 Girl Reading a Letter at an Open Window

32 3/4"  x  25 3/8"   oil on canvas

James Whitbeck

  Unlike the cheap mass-produced reproductions that you find on the internet, with no authentic qualities of the originals, my paintings are all hand painted from start to finish using the same traditional techniques used during the seventeenth century. Compared to the factory knock-offs, which are finished in a day and look it, my paintings are the opposite. Because I strictly follow the techniques of the period, which consist of many thin layers of oil, slowly building up that intensity of color and depth that you find in the old paintings, my work can take up to a month.

   There is no factory line production in my studio, each painting receives my own full attention, and does not leave the studio until the heart and feel of the old Dutch Masters is achieved and all is satisfactory.

"It's the next best thing to having the original hanging in my home"

                                                                                                                     James Foote